Hello and welcome to this month's blog on technology and today I would like to introduce you to the Acorn Age Friendly Tablet that was designed with the input of older people from across Fingal County Council's Older Peoples Council, before being trialled in Limerick, Meath & Fingal County Council's, to ensure the needs and preferences of our older population are heard and met through the use of technology and in this case a hand held tablet named Acorn.
 This product has made life easier to access information through the world wide web (www) for people who would not generally use computers/phones/devices in their day to day lives. Users of this device can make phone calls, make video calls, take photographs and so much more.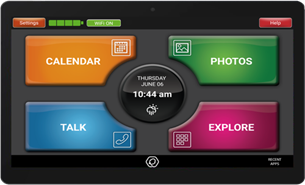 The Acorn Age Friendly Tablet:
The ACORN smart technology tablet was specifically developed as a way of addressing the digital divide by providing marginalised groups with a user-friendly tool to stay connected in this rapidly changing world. Designing the ACORN smart technology device with the support of older people is what makes the ACORN device unique. It was designed on the premise that "If you design for the young, you exclude the old but if you design for the old, you include everyone"(Glenn Millar, Director of Education& Research, Canadian Urban Development Institute).
In the 2 years since the product came to market, the numbers using the device continue to grow. It is now being used by a wide variety of statutory and community groups as well as the individuals. It is being used as a communications tool, a digital learning tool, social tool and for wellness and health.
The Operations Manager Laura Corbet, looks after all areas of the business operations, including customer service. "We are very proud of our customer service here in Acorn. We believe it's important to be able to speak to a person on the end of a phone, and not an automated message. I really enjoy chatting with our Acorn users and most of the time the query gets resolved right away." 
Acorn has a dedicated customer service number where you can speak to an agent Monday to Friday from 9am to 5pm. If we happen to be busy on another call we will always phone the user straight back.
For more information please call Laura on the phone number below or on their website.
Laura Corbet – Operations Manager at Acorn
m: +353 85 888 1657 | p: +353 85 888 1657